PALM BEACH WATER TAXI

Shuttle Transfer Service

The Palm Beach Water Taxi is your connection to the BEST Destinations, Events & Attractions in Palm Beach County.  Forget about traffic and parking hassles as our Captains do the steering on the beautiful Intracoastal Waterway. 

No matter your destination, a Palm Beach Water Taxi cruise

is a wonderful beginning and/or end to your outing.

The BEST way to Travel in Palm Beach County!

CALL: (561)

683-TAXI (8294)

for reservations today!

or

Have Questions?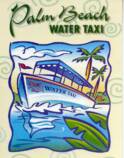 Take the Palm Beach Water Taxi

to Cruise to:

Dining

Many of Palm Beach County's Best restaurants and bars can be reached by water.  Menus and ambiance range from casual Caribbean to fine dining at its best.

Shopping

Fabulous shopping destinations are just minutes away from a number of Water Taxi stops.  Visit the Clematis Street District or the new CityPlace in Downtown West Palm Beach; Palm Beach Gardens Mall or Oakbrook Square in Palm Beach Gardens; or the famous Worth Avenue and the Royal Poinciana Plaza in Palm Beach.

Entertainment & Play

Travel to fabulous area Museums (including the Norton, Flagler and Maritime Museums), Theaters (including the Kravis Center, Cuillo Theatre, Royal Poinciana Playhouse), Attractions and Hot Night Spots!

Peanut Island, which is only accessible by boat, is also a favorite spot for residents and visitors alike to sun bathe, hike, snorkel and fish.  It is also home to the Maritime Museum and John F. Kennedy bomb shelter.

Check schedule for days and times.

Special Events

Travel to attend Palm Beach Counties BEST events such as Sailfish Marina's "Sunset Celebration & Art Show" and/or "Clematis By Night", every Thursday or buy your fresh produce and breads at the West Palm Beach Green Market every Saturday morning via the "GreenMarket Express"

Other Special Events accessible by Water Taxi include Meyer Ampitheater concerts, SunFest, 4th on Flagler, the Palm Beach Boat Show, Holiday Boat Parade, and more!

(Please Note: some destinations may require short ground transportation to access.

Connection to Free Trolley available from

Downtown Clematsis St. District)

Some of the Regularly Scheduled Water Taxi Shuttle Service

"Peanut Island Shuttle"

(Picnic, swim, camp, snorkel or just come along for the ride to this tropical island accessible only by boat,

DAILY, from Sailfish Marina

Price: Just $7 per person round-trip!

Daily: at 10am, 12noon, 2pm and 4pm

(return times back from Peanut Island are

at 11:20am, 1:20pm, 3:20pm and 5:20pm)

Fri.-Sun: every hour on the hour 10am-5pm

(return times back from Peanut Island are every hour on the half hour 10:30am-5:30pm)

No On-site parking allowed for Peanut Island Transfers.

at an additional cost

Saturday & Sunday:

at 11:30am, 12:30pm & 2:30pm)

Down Town & City Place

Thursday Nights:

from Sailfish Marina:

6pm, 7:30pm,  9pm, 10:30pm

from Downtown WPB: 

5pm, 6:45pm, 8:15pm, 9:45pm & 11:15pm

Don't see somewhere you'd like to go

on this regular schedule,

just Call us at (561) 683-TAXI and ask!

Also, don't forget you can get off our
sightseeing tours
halfway through your tour to enjoy these great destinations and events as well; the perfect combination trip!
Price: $7 one-way, $12 round - trip